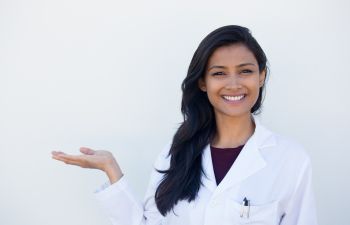 Most people will be afflicted by hives at some point in their lives. Hives are a skin reaction to an irritant that cause red, itchy welts to develop on the skin. These welts appear and fade repeatedly as the reaction runs its course. Most people are not overly bothered by hives; they are more of a nuisance that will simply go away.
However, there are some people who are severely afflicted by chronic hives. If welts appear for more than six weeks and recur frequently over a long span of time, it is determined that a person has chronic hives. Unfortunately, many times it is unclear what causes chronic hives to break out. Chronic hives can be very uncomfortable and debilitating – interfering with day to day activities, work, and sleep. While antihistamines and anti-itch medications can provide relief, it is not ideal for these to be used permanently.
Dr. Jamie Weisman leads Medical Dermatology Specialists in Atlanta as an avid clinical researcher and nationally recognized dermatologist. She deeply believes that skin conditions are more than just "skin deep." Dr. Weisman is committed to treating the primary cause of patients' hives. If it is unknown what is causing your chronic hives, Dr. Weisman will do in-depth studies to provide long lasting solutions to your condition.
Your comfort is a huge priority to us. We understand that most people find regular hives uncomfortable, and these last less than 24 hours. Yet, when you are plagued by chronic hives, your entire life can be negatively impacted. Dr. Jamie Weisman will work with you, and your primary care physician if needed, to determine whether your hives are caused by an allergy, medication, illness, or system disease. Our qualified skin care experts are equipped to diagnose your condition, and you can trust Medical Dermatology Specialists to provide the most advanced and personalized treatment for hives relief.
If you are suffering from chronic hives, contact our practice today. Medical Dermatology Specialists can help you find a treatment plan that is best for you.
Posted on behalf of Dr. Jamie Weisman, Medical Dermatology Specialists, Inc.