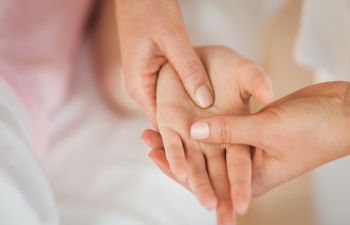 Many people experience similar consequences that affect their skin during winter. One of the most common skin issues is cracked, dry hands. This can be painful to deal with and cause you to feel self-conscious because of how badly your hands look. There are things you can do to alleviate and prevent cracked, dry hands this winter.
The most prominent cause of cracked, dry skin on the hands is irritant dermatitis. Irritant dermatitis occurs when the skin's protective barrier is disabled and dominated by an outside irritant, such as soap, chemicals, hot water, or dry air. Other skin conditions can also cause the skin's protective layer to be damaged and susceptible to irritation. Eczema, psoriasis, and contact allergy are the most common skin conditions that cause severely dry and cracked skin on the hands. Whether the skin's barrier is disabled from an outside irritant or a skin condition, environmental elements are invited to enter the skin. This leads to uncomfortable, often painful, symptoms such as itching, redness, peeling, and inflammation. Some people may even develop painful splits in their skin.
There are some steps you can take to prevent cracked, dry hands from ruining your winter :
Choose a mild soap throughout the winter months. It is important to consider all soaps in your home: the shower, bath, kitchen, and cleaning soaps that you use around the house.
Avoid alcohol-based hand sanitizers. While these may kill germs quickly, they also deplete your skin from necessary moisture.
Use moisturizing anti-bacterial soap.
Use a towel to dry your hands rather than letting them air-dry.
If you are already experiencing cracked, dry hands, choose a lotion with an ingredient called 'dimethicone,' which acts as a barrier to protect the skin.
If you are suffering from cracked, dry hands, your best line of defense is a dermatologist. At Medical Dermatology Specialists, we can recommend the best product for your skin condition through all seasons.
Medical Dermatology Specialists, Inc.
5730 Glenridge Dr, Suite T-100
Atlanta, GA 30328
(404) 939-9220
Monday – Thursday 7:30 AM – 5:00 PM
Posted on behalf of Dr. Jamie Weisman, Medical Dermatology Specialists, Inc.