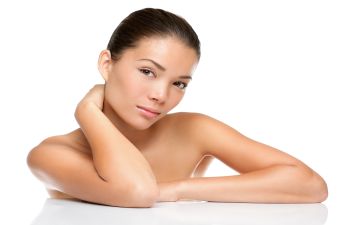 Skin cysts are large, fluid-filled bumps that slowly grow beneath the skin. They can occur anywhere on the body, commonly affecting the face, neck, and torso. Having any type of unusual growth can be alarming, especially when it occurs in the facial area where it cannot be easily hidden. While cysts are benign, or noncancerous, growths that usually do not cause problems, they can cause people to feel self-conscious or embarrassed.
Cysts are typically painless, slow to grow, and smooth to the touch. They often feel like small peas beneath the skin's surface that do not hurt unless they become inflamed or infected.
Some people develop cystic acne, where blemishes occur irregularly and last for a lengthy amount of time. These blemishes can be tender because they are infected sebaceous glands (oil glands) that fester and develop into an inflamed cyst. While acne is common among adolescents and young adults, cystic acne is relatively uncommon and more severe. The treatment of cystic acne requires a medical dermatologist who understands the complexities of skin issues and the causes behind them. Cystic acne is very difficult to treat at home despite the myriad of treatment methods found online. In-office treatment may include using liquid nitrogen to "freeze" the cyst or prescription treatment that is strong enough to break down the cyst.
For cysts that are not related to cystic acne, cyst removal treatment is a common option. Dr. Jamie Weisman leads Medical Dermatology Specialists in Atlanta as a distinguished clinical researcher with years of experience helping patients keep their skin healthy with advanced treatment options. Our practice handles all types of cyst removal, from a pilar cyst on the scalp to an epidermoid cyst on the back.
Dr. Jamie Weisman understands that all skin conditions are more than skin deep. She, along with her team, will properly diagnose your cyst and give you accurate answers to its cause. With an accurate diagnosis, effective treatment can be administered. If you need cyst removal on the facial region, you can depend on Dr. Weisman to take precautions against scarring. If you have a cyst that you are concerned about, want to learn more about cyst removal, or have persistent cystic acne, contact Medical Dermatology Specialists today.
Medical Dermatology Specialists, Inc.
5730 Glenridge Dr, Suite T-100
Atlanta, GA 30328
(404) 939-9220
Monday – Thursday 7:30 AM – 5:00 PM
Posted on behalf of Dr. Jamie Weisman, Medical Dermatology Specialists, Inc.