Dr. Anita K. Shetty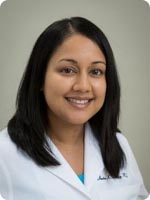 Dr. Anita K. Shetty is a native of Augusta, Georgia. She attended the Georgia Institute of Technology and graduated with highest honors with a degree in Computer Science. She then earned her doctorate in medicine from the Medical College of Georgia. She remained at the Medical College of Georgia for her internship in Internal Medicine, then traveled to Houston, Texas, where she spent a year as a clinical trials sub-investigator. During this time, Dr. Shetty oversaw clinical trials in viral dermatologic diseases, psoriasis, acne, and atopic dermatitis. She then went on to complete her residency in Dermatology at Loyola University Medical Center in Maywood, Illinois.
Dr. Shetty has published numerous articles in leading dermatology journals and written chapters, by invitation, in dermatology textbooks. She is a member of the American Academy of Dermatology, the Atlanta Association for Dermatology and Dermatologic Surgery and a diplomate of the American Board of Dermatology (board-certified).
Dr. Shetty's professional interests include medical and cosmetic dermatology. Her clinical interests include psoriasis, atopic dermatitis, acne, skin cancer, and treatment of skin of color in addition to general medical dermatology. She is married and has three children.