Helping Your Teen With Acne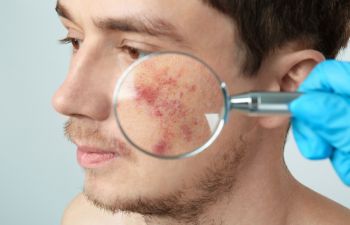 Thinking back to your younger years, what were some of the hardest things to go through? Navigating the social scene in high school, that first big break up, keeping grades up, and dealing with acne are some of the most difficult things most teens have to deal with. No one wants to deal with acne, least of all teenagers who have enough to deal with. Fortunately, acne can be greatly minimized or eliminated altogether with the correct treatment. However, not all cases of acne respond well to the same products and techniques.
Many times, implementing a simple routine of washing the face twice a day and using over-the-counter astringent and creams are effective for treating acne. Yet, it is not uncommon for a teen to need a dermatologist's help in acne management.
Acne is the most common skin condition in the United States, affecting both teens and adults. It typically occurs on the face, but it can show up on the neck, chest, back, and buttocks as well. If not treated properly, acne can cause permanent scarring or dark spots. Having a dermatologist step in to provide treatment will allow access to modern products, prescriptions, and treatments that you cannot get "over the counter."
At Medical Dermatology Specialists, your quality of life is important to us. We can remember that being a teenager was hard enough without having to deal with the embarrassment of acne. Severe acne, or persistent acne flare-ups, can cause significant emotional distress and even depression. Our practice uses in-depth knowledge and the latest research in acne treatment to deliver long-lasting solutions to treat your skin condition.
Overactive oil glands, skin bacteria, inflammation, and blockage of skin pores all act together to produce acne. Stress, hormones, and other disturbances can also contribute to acne flare-ups. The experts at Medical Dermatology Specialists can help you regain your confidence in your skin today. Contact us to schedule an appointment.
Medical Dermatology Specialists, Inc.
5730 Glenridge Dr, Suite T-100
Atlanta, GA 30328
(404) 939-9220
Monday – Thursday 7:30 AM – 5:00 PM
Posted on behalf of Dr. Jamie Weisman, Medical Dermatology Specialists, Inc.