How Familiar Are You with Your Skin?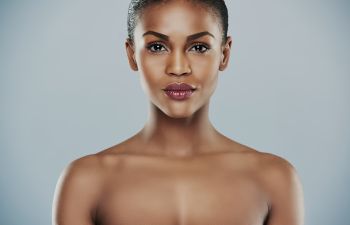 How familiar are you with your skin? You may be thinking that you know what color your skin is, so what else is there to know? Well, there's more to your skin than its color. In fact, each person has a specific skin type, and becoming familiar with the type of skin you have will help you care for it properly.
Specific skin types are more prevalent to particular skin challenges than others. And, to make matters even more interesting, your skin type can change as you age. What that means is that your skincare regimen will need to adjust as your skin changes. But before you can follow a skincare regimen, you need to know your skin type.
Dermatologists typically categorize the skin in terms of how oily, dry, or sensitive it is. Oil production and sensitivity generally are the most important factors in determining the type of skin treatment, sunscreen, and other products that you should be using.
Normal Skin Type
Few to no imperfections
No severe sensitivity
Barely visible pores
A healthy, radiant complexion
Oily Skin Type
Enlarged pores
Shiny complexion
Blackheads, pimples, or other blemishes
Combination Skin Type
Dry to normal skin on the cheeks
Oily skin in the T-zone (nose, forehead, and chin)
Enlarged pores
Dry Skin Type
Almost invisible pores
Dull complexion
Rough, flaky, or red patches
Less elasticity and more visible lines
Sensitive Skin Type
Redness
Burning
Itchy patches
Excessive dryness in some areas
Knowing your skin type will help you care for your skin. If you want to learn more about your skin type and how to care for it, contact Medical Dermatology Specialists today. Our team of skin experts can recommend products specific to your skin type to help you feel and look your best. Always remember that sharing personal hygiene products with family members and friends is not recommended. Your skin type is specific to you, which is why you need a customized skincare plan.
Medical Dermatology Specialists, Inc.
5730 Glenridge Dr, Suite T-100
Atlanta, GA 30328
(404) 939-9220
Monday – Thursday 7:30 AM – 5:00 PM
Posted on behalf of Dr. Jamie Weisman, Medical Dermatology Specialists, Inc.