How to Care for Your Winter Acne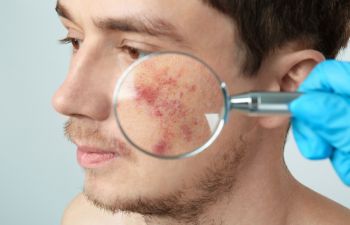 With less moisture in the air during the winter months, acne breakouts can become more severe. Holiday treats and hot showers can make matters worse. There are a few things you can do to prevent this irritating skin condition from affecting your daily life and self-confidence. Here are three tips to care for your winter acne to achieve clearer skin.
Gently Cleanse and Exfoliate
Changes in temperature can dry out your skin and cause it to flake. When your skin is dry, dead skin cells and bacteria can cling to the surface and clog pores. Use lukewarm water to gently cleanse your skin twice daily to prevent winter acne breakouts. Exfoliate your skin once a week to prevent clogged pores.
Cleansing and exfoliating your skin more often can dry out your skin and worsen winter acne. Look for hydrating skin care cleansers made for sensitive skin that are free from fragrance and harsh ingredients. Apply a light moisturizer after washing to give your skin a protective barrier against the elements.
Keep Items Away from Your Face
If you do experience a winter acne breakout, avoid touching your face to pick at blemishes. This can inflame your dry skin and lead to infection. Make sure articles of clothing like scarfs, hats and coats are regularly washed before wearing to prevent the accumulation of bacteria. Change your pillowcases at least once a week to help keep your skin clean.
Consume a Healthy Diet
During the winter holiday season, it can be tempting to reach for comfort foods filled with dairy and sugar. Loading up on fresh fruits and vegetables can give you the nutrients you need for healthy glowing skin this winter and reduce winter acne breakouts. Instead of drinking coffee or hot chocolate to stay warm, enjoy a hot cup of green tea with honey to your taste.
Personalized Winter Acne Treatments in Lawrenceville
Do you struggle from winter acne breakouts? Medical Dermatology Specialists offers personalized winter acne treatments to help you achieve clearer skin in Lawrenceville. An experienced dermatologist can help uncover the root cause of your skin condition and help you manage your symptoms. Book an appointment for treatment today.
Medical Dermatology Specialists, Inc.
5730 Glenridge Dr, Suite T-100
Atlanta, GA 30328
(404) 939-9220
Monday – Thursday 7:30 AM – 5:00 PM
Posted on behalf of Dr. Jamie Weisman, Medical Dermatology Specialists, Inc.