May is Skin Cancer Awareness Month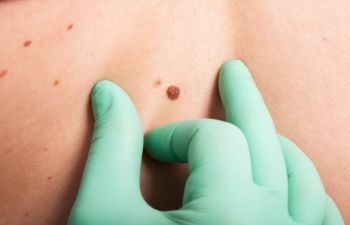 With over 5 million cases of skin cancer diagnosed each year, this is still the most common form of cancer in America. Fortunately, YOU are the best advocate against this deadly disease! You are best aware of the condition of your skin, and by simply paying attention to any changes that you see, you can protect your health.
Early detection of any disease gives you a better chance for recovery, and the same goes for skin cancer. The odds are most certainly in your favor if you catch and treat skin cancer in their earliest stages. If you have not made regular skin examinations apart of your monthly routine, Skin Cancer Awareness Month is the perfect time to start.
Here's How to Perform a Self-Exam for Skin Cancer
Stand in a well-lit room in front of a mirror, by yourself or with a trusted partner. Have a hand-held mirror close by.
Undress in front of a mirror. You may wish to undress in stages rather than fully undress, but the idea is to be able to see all areas of your skin.
Examine your skin. Use your hand-held mirror to view areas that are difficult to see, such as the back of your thighs and neck.
The first time you do a self-examination of your skin, you are setting a baseline. It is helpful to have a journal in which you can record moles, marks, and any areas of concern. Have this journal with you each time you perform a self-exam of your skin so that you do not have to rely on your memory from month to month.
It is essential to know the warning signs of skin cancer. Here are your ABCDEs:
A – Asymmetrical Spots. One side will differ from the other.
B – Look at the border. A poorly defined border may indicate a problem.
C – Color differences that vary from one mole to another signal a doctor's professional opinion. Look for shades of black, blue, red.
D – The diameter of any mark that is greater than 5 millimeters should be evaluated.
E – Skin cancer is evolving. If you notice changes in the size, shape, or color of any spot, it needs to be seen by a doctor.
As a thriving research and medical dermatology practice in Atlanta, we provide thorough diagnosis and long-lasting treatment options for all skin conditions. If you have a suspicious mole or need a routine skin cancer screening, contact Medical Dermatology Specialists today. Your future health may depend on it.
Medical Dermatology Specialists, Inc.
5730 Glenridge Dr, Suite T-100
Atlanta, GA 30328
(404) 939-9220
Monday – Thursday 7:30 AM – 5:00 PM
Posted on behalf of Dr. Jamie Weisman, Medical Dermatology Specialists, Inc.