Noticing Changes This Fall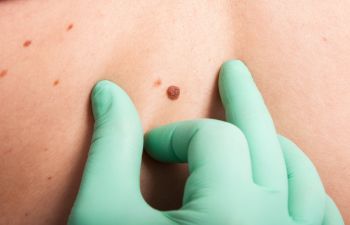 Fall in Georgia is beautiful. Our beautiful trees and mountains host a canvas for the changing leaves to paint their masterpiece artwork every autumn. The reds, oranges, yellows and browns are a signal that cooler temperatures are coming and it's time to break out the cardigans and jackets.
As you're taking time to notice the cyclical changes of the seasons, let it be a reminder to you to take a look at your body for any changes you notice to your skin as well. You can do this by taking a look at your moles and doing the ABCDE test.
A= Asymmetry – Check that your mole has a symmetrical shape and that one half of your mole does not match the other half.
B= Border – Notice if the border of your mole is ragged, blurred or smudgy.
C=Color – See if your mole has different colors in it such as black, white, blue or red.
D-Diameter – Compare to see if the diameter of your mole is bigger than that of a pencil.
E=Evolving – Look for changes to your moles. It will look different than the last time you looked at it.
The best way to notice change is to keep watching for it. Get to know your skin. You can even take pictures of moles to compare and contrast over time.
If you notice any changes to a mole or your skin, contact Medical Dermatology Specialists today. We are experts at cancer screening and skin cancer treatment. Dr. Weisman will offer you the most thorough skin cancer screening and symptom evaluation during your visit with us. Contact our office today.
Posted on behalf of Dr. Jamie Weisman, Medical Dermatology Specialists, Inc.