Scarring After Breast Surgery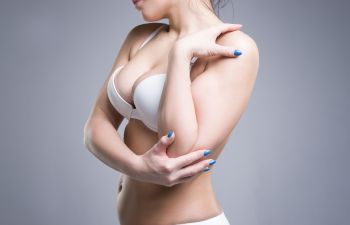 There are many reasons you may have undergone breast surgery. Breast augmentation, reduction or cancer treatment are three possible reasons for this type of procedure. There are many types of surgery options available for breast cancer treatment. You can read more about the possible surgeries that may be used to remove breast cancer on the American Cancer Society website.
If you had surgery on your breast, you may have multiple layers of scarring.  The emotional scarring can be difficult to recover from. You fought a battle for your life, and won, but now you have the painful reminder on your breasts with your battle scars. The physical scarring on your breasts can be a constant reminder of emotional scars.
If you have scarring on your breasts after your breast surgery, Medical Dermatology Specialists offer you the most advanced and progressive scar treatment using the latest research and clinical trial opportunities. Dr. Weisman delivers you with cutting-edge treatment options through clinical trials for women who have unwanted scars after breast surgery.
To Enroll For A Clinical Trial For Unacceptable Scars After Breast Surgery
You must have raised scars
You must not currently be undergoing breast cancer treatment
Raised scarring occurs when your body produces too much collagen as it tries to repair the damage done during surgery. A scar is normal and to be expected after any surgery, but raised scars are more dramatic and can be treated.
Contact Dr. Weisman at Medical Dermatology Specialists to learn if you are eligible for our clinical trials for scars after your breast surgery today.
Posted on behalf of Dr. Jamie Weisman, Medical Dermatology Specialists, Inc.