Take Proper Care of Your Skin At Home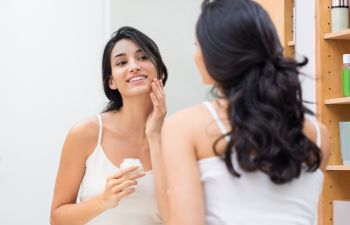 With the rapid spread of COVID-19 impacting our nation, businesses are being required to shut down normal business operations in order to slow the spread of the Coronavirus. The development of COVID-19 has led Governor Brian Kemp to officially declare a public health emergency for the state of Georgia. Due to the mandates of Governor Kemp and our practice committed to doing our part to slow the spread of COVID-10, our office will be closed to all but urgent visits. We will be conducting regular visits through teledermatology in order to ensure that we are providing care for our patients.
Without access to our office for appointments related to your skin concerns, it is more important than ever that you take care of your skin. Below are things that everyone can do to promote healthy skin:
Wash your skin thoroughly with a gentle, non-abrasive soap each day. Washing your skin ensures that pores are free of dirt, grime, and bacteria. If you call our practice, we can recommend gentle soaps for you to use.
Wear sunscreen with at least a 20 SPF each day. Whether the sun is shining or clouds cover the sky, harmful UV rays can cause damage to your skin. It is important to protect your skin for health and aesthetics.
Get plenty of rest. Sleep was designed to help the body restore itself each day. Make sure you put down devices and turn off the TV at least one hour before bedtime to create a restful environment.
Stay away from harmful environments. Cigarette smoke, heavy air pollution, and artificial fragrances can form free radicals and cause skin irritations. Be conscious of your environment!
Drink plenty of water. Water is the most vital and sustaining source of life on planet Earth. Water helps to keep your body clean and healthy from the inside out. Dehydration is known to cause dry, cracked skin, acne, and contribute to stress on the skin.
Pay attention to the ingredients in all personal care products. Avoid toxic ingredients that can cause harmful skin reactions.
Let us all do our part to promote personal and social health. Take care of yourself, stay inside, and wash your hands!
Medical Dermatology Specialists, Inc.
5730 Glenridge Dr, Suite T-100
Atlanta, GA 30328
(404) 939-9220
Monday – Thursday 7:30 AM – 5:00 PM
Posted on behalf of Dr. Jamie Weisman, Medical Dermatology Specialists, Inc.