Acne and Your Mental Health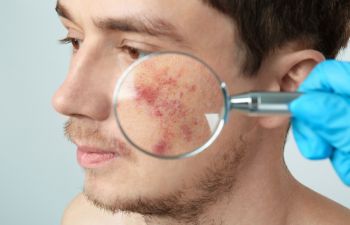 For many people, acne is just a way of life. Some people view acne as a "rite of passage" for teenagers or as a normal side-effect of hormonal changes throughout different stages in life. However, some people are more affected by acne than others, and in more ways than one.
Dealing with the highly visible red bumps and pimples on the face can take a massive toll on a person's self-esteem. Many medical articles have been written on the effects of acne, stating that the more prolonged acne lasts, the more likely it is to affect one's emotional well-being. The risk of depression tends to be much higher in females than in males. With teen girls and young women trying endlessly to achieve the unattainable "perfect" appearance, they often internalize the appearance of acne as a characteristic that makes them unattractive and unwanted. Parents of teenagers and young adults who suffer from acne should pay attention to the moods, comments, and actions of their children and be careful to notice any signs of mental distress.
Acne does not affect everyone the same way – either physically or emotionally. If you are a parent of a teenager who is feeling embarrassed or isolated by this skin condition, or if you are an adult suffering from stubborn acne, it is important to know that you do not have to suffer. Making an appointment with a Board-certified medical dermatologist is an essential step in overcoming this skin condition.
At Medical Dermatology Specialists, we offer customized treatments based on each patient's needs. We have a wide variety of acne treatments to help clear your skin and build your confidence. You do not need to suffer the physical or emotional effects of acne. If your mental health is negatively impacted by acne or acne scars, please contact our practice today.
Medical Dermatology Specialists, Inc.
5730 Glenridge Dr, Suite T-100
Atlanta, GA 30328
(404) 939-9220
Monday – Thursday 7:30 AM – 5:00 PM
Posted on behalf of Dr. Jamie Weisman, Medical Dermatology Specialists, Inc.