Allergies Can Affect Your Skin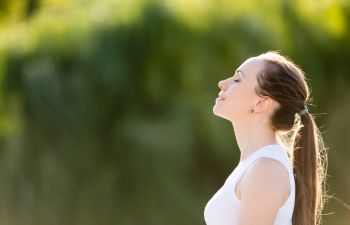 Spring brings such beauty to our world after a long, cold winter. Trees are blooming and leafing out, flowers add color to the landscape, and the grass is greening out to transform yards. Yet, while spring brings beauty – it can also bring misery to those who suffer from allergies. Seasonal allergies can often affect people so severely that they may have to miss work or school. Sore throat, hoarseness, severe congestion, a runny nose, and itchy watery eyes are common allergy symptoms that bother many Georgians each spring when pollen levels peak.
However, another way that seasonal allergies can affect you is by taking a toll on your skin. For those with eczema, seasonal allergies can permeate the skin and cause flare-ups. Red, itchy rashes are highly associated with airborne allergies like pollen, so eczema sufferers should be on alert. If your skin has become itchy and dry, it may be from widespread inflammation. As your body works hard to fight off allergens that cause inflammation to your sinuses, your skin may also suffer the side effects.
Because many people complain of itchy and watery eyes during allergy season, an estimated 20% of the population will experience allergic conjunctivitis. When allergens irritate the membranes lining the eye and inner eyelid, the eyes become inflamed. If you are constantly rubbing your eyes to alleviate the itching, you can damage the delicate skin around the eyes.
Skincare for Allergy Sufferers
While you may be shelling out money on antihistamines and Kleenex, you should also add a rich moisturizer to your shopping list. Dry, inflamed skin can be soothed, and eczema flare-ups can be prevented by applying a rich moisturizer to your skin.
You can also minimize eye irritation by wearing sunglasses outdoors. Pollen is in the air, and sunglasses can help prevent the tiny particles from entering your eyes. Also, using over-the-counter eye drops can soothe your irritated eyes. Of course, with the delicate skin surrounding your eyes, you can apply a sensitive wrinkle-fighting eye cream that will lessen the irritation and prevent premature aging.
If springtime is affecting your skin in ways you weren't expecting, contact Medical Dermatology Specialists today. Our dermatology center offers individualized treatments that are tailored to your specific needs.
Posted on behalf of Dr. Jamie Weisman, Medical Dermatology Specialists, Inc.
Medical Dermatology Specialists, Inc.
5730 Glenridge Dr, Suite T-100
Atlanta, GA 30328
(404) 939-9220
Monday – Thursday 7:30 AM – 5:00 PM