Are Mosquitos Ruining Your Summer Skin?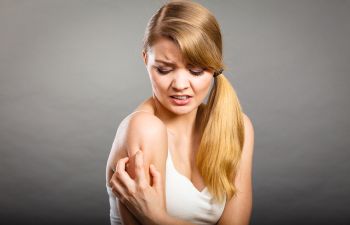 Nothing says summer more than hot days spent by the pool, quiet evenings on the back porch, and legs covered in mosquito bites. Here in Georgia, you almost can't walk outside during the summer months without getting bit by mosquitoes.
Mosquitoes are a complete nuisance in Georgia, and they can leave miserable bumps on your skin that itch for days. Take a deep breath because you're about to learn how mosquitoes cause those bumps.
Mosquitoes are small insects that use their mouthparts to puncture your skin and feed on your blood. That sounds like something out of a horror film! Mosquitoes have a tiny tube-like mouth that can cause a small puncture in your exposed skin without you even knowing it at the moment. However, very quickly, a bump will occur, and intense itching will typically begin.
Many children develop large areas of swelling, soreness, and redness where they experience mosquito bites. This type of reaction is colloquially referred to as "skeeter syndrome." Adults can also have this reaction, although it is more common in children.
It is important to understand that mosquitoes travel from person to person to feed on blood. These troublesome insects can carry viruses or parasites that cause severe illness. Protecting your skin from mosquitoes involves taking precautions so that you are not a feeding ground for them. 
You can protect yourself from mosquito bites by:
Avoiding outdoor activities from dusk to dawn (when mosquitoes are most active)
Using mosquito netting over strollers or chairs to safeguard children
Using insect repellent that includes DEET, Icaridin, or oil of lemon eucalyptus
Not allowing water to collect in containers
Wearing long sleeves, socks, and protective clothing
If your arms and legs are covered in mosquito bites, you are not alone. You can use a topical cream with hydrocortisone to ease the itch. If this is not enough, contact Medical Dermatology Specialists today. Our personalized skincare treatment is designed to make your life more comfortable.
Medical Dermatology Specialists, Inc.
5730 Glenridge Dr, Suite T-100
Atlanta, GA 30328
(404) 939-9220
Monday – Thursday 7:30 AM – 5:00 PM

Posted on behalf of Dr. Jamie Weisman, Medical Dermatology Specialists, Inc.