Challenges of Living with Blistering Skin Disease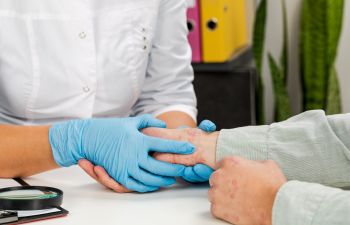 More often identified in older patients, bullous pemphigoid results in large blisters that typically appear on areas of the skin that crease. Symptoms include an itchy rash, fluid-filled blisters or small sores in the mouth.
Bullous pemphigoid is an autoimmune condition that is often brought on by a reaction to some medications. However, the exact reason for this reaction is still unknown. The itch or rash associated with blistering skin disease typically begins before blisters begin to develop.
In some sufferers, blisters will ease over time and eventually disappear. Unfortunately, many patients will continue to experience symptoms for up to five years or longer. There are also life-threatening implications associated with bullous pemphigoid in older patients.
Skin Rash & Blisters
The appearance of symptoms such as a rash, hives or blisters can cause embarrassment for sufferers of blistering skin disease. Blisters are usually red and quite large in appearance, making them easily visible when not covered by clothing.
Due to the location of blisters, bending the limbs can feel uncomfortable and painful. Sleeping comfortably is also problematic, as changing position during the night can put pressure on blisters. Sufferers of bullous pemphigoid may experience periods of insomnia or sleep deprivation as a result of these challenges.
Infection Risk
As with any damage to the skin, blisters present the risk of infection. A bacterial or fungal infection can quickly spread, causing pain and discomfort. In extreme cases, sepsis can occur and could become fatal without emergency treatment.
Some older sufferers of blistering skin disease are already more prone to infections. This may be due to challenges with personal hygiene or a weakened immune system. It is therefore crucial that the effective treatment for the conditions and any associated complications be delivered early.
Medical Dermatology Specialists
At Medical Dermatology Specialists, we offer solutions for a range of skin conditions including bullous pemphigoid. If you are suffering from persistent symptoms, our team can provide solutions that will last.
Call Medical Dermatology Specialists to discuss the challenges you are facing with blistering skin disease. We can provide life changing treatment options in Atlanta, Georgia.
Posted on behalf of Dr. Jamie Weisman, Medical Dermatology Specialists, Inc.
Medical Dermatology Specialists, Inc.
5730 Glenridge Dr, Suite T-100
Atlanta, GA 30328
(404) 939-9220
Monday – Thursday 7:30 AM – 5:00 PM