Dermatology Tips to Protect Your Skin This Summer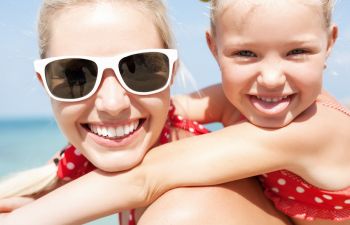 The warmer weather in summer can wreak havoc on your skin. The heat and humidity can lead to clogged pores and breakouts. A few tweaks to your daily routine can help keep your complexion clear and healthy. Here are the best dermatology tips to protect your skin this summer.
Adopt a Lightweight Dual-Purpose Moisturizer
The heavier creams and cleansers you may use to protect your skin in winter may be too much during summer. Adopt a lightweight, dual-purpose moisturizer that contains sunscreen instead. Make sure that the moisturizer you choose contains a SPF of 30 or higher to protect your skin against summer sunburns and other dermatology concerns.
Apply Sunscreen Frequently
To protect your skin this summer, apply sunscreen every couple of hours whenever you are outdoors. Cover all exposed skin including your hands, feet, lips and ears. You can use your phone to set an alarm to remind you when it is time to reapply.
Limit Showers and Baths
Summer sweat and days at the beach can make you want to bathe more. Over-showering can lead to eczema and inflammation from dry skin. When you do shower, limit your time to around four to five minutes. Keep the temperature of the water at slightly warm temperatures to help prevent potential dermatology issues.
Drink Plenty of Water
Your skin needs proper hydration, especially in the summer heat. Drinking plenty of water helps protect your skin and aids in recovery when you experience sun damage. Make a goal to drink eight glasses a day to help achieve great results for skin.
Protect Your Skin in the Summer with Shade
The best way to protect your skin from dermatology issues in the summer is to stay in the shade as much as possible. Wear protective clothing such as wide brimmed hats, lightweight clothing with sleeves and sunglasses. Bring an umbrella to sit under while you are at the beach or find a spot covered by tree shade.
Summer Dermatology Treatments to Protect Your Summer Skin
Protecting your skin is crucial to preventing medical dermatology issues such as skin cancer, psoriasis and eczema. If you need help taking care of your skin this summer, Medical Dermatology Specialists can help. Customized dermatology treatments are available to help ensure your skin stays safe and healthy all summer long. Contact Medical Dermatology Specialists to receive personalized skin care treatment today.
Medical Dermatology Specialists, Inc.
5730 Glenridge Dr, Suite T-100
Atlanta, GA 30328
(404) 939-9220
Monday – Thursday 7:30 AM – 5:00 PM
Posted on behalf of Dr. Jamie Weisman, Medical Dermatology Specialists, Inc.