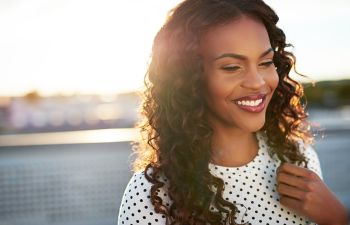 Lupus is a permanent autoimmune disease that causes the immune system to attack a person's own organs, joints, and tissue. The majority of people living with lupus will also experience issues with their skin. Skin disease affiliated with lupus is called cutaneous lupus erythematosus. There are three types of cutaneous lupus erythematosus: chronic cutaneous lupus (discoid), subacute cutaneous lupus, and acute cutaneous lupus.
Discoid lupus is the only form of the disease that is specifically associated with the skin and does not involve internal organs. It is diagnosed by taking a biopsy of the skin. Statistically, it is five times more likely to strike females of any ethnicity between ages 18 and 40. It presents with scaly, red, raised patches or lesions that often leave scars on the cheeks, ears, eyelids, nose or scalp. Discoid lupus is almost always confined to areas above the neckline. The scalp is commonly affected by lupus patches that flake, crust, and cause hair loss.
The lesions and rashes that characterize discoid lupus are sensitive to the ultraviolet output of the sun and will flare up in the presence of sun exposure and even some artificial lighting. In addition to the medical care a person with discoid lupus will receive, preventive self-care will include:
Constant shelter from the sun using sunblock with a high SPF factor
Protective clothing, hats, and sunglasses
Caution near windows and fluorescent lighting
Is lupus affecting your skin and quality of life? Board-certified dermatologist Dr. Jamie Weisman is renowned for her specialization in treatments for autoimmune diseases that impact a person's skin. Medical Dermatology Specialists, Inc. offers leading edge treatment for skin disorders related to discoid lupus. Dr. Weisman is passionate about helping patients get lasting relief from lupus skin lesions by going beyond common treatments and consulting with your rheumatologist in order to provide thorough care for discoid lupus. Contact our Atlanta lupus treatment experts at Medical Dermatology Specialists today.