Does Your Child Need to See a Dermatologist for Rosacea?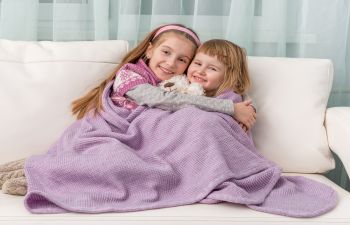 As a parent, not understanding the cause of your child's illness is extremely frustrating and worrisome. You are probably feeling the same way about their persistent facial redness or rash. Seeing a dermatologist can help you find the answers as well as treatment. Are you worried it could be rosacea?
Symptoms of Childhood Rosacea
The symptoms of rosacea in children can range from mild to severe. Mild cases of rosacea may go undiagnosed until adulthood, when symptoms can worsen. However, more severe symptoms require prompt diagnosis and treatment to prevent permanent skin damage and possibly damage to the eyes. Symptoms typically include:
Persistent flushing
Red, swollen eyelids (possibly itchy or crusty)
Red, irritated eyes
Recurring styes or pinkeye (even after treatment)
Ocular Rosacea
Severe cases of rosacea in children that go untreated could affect the eyes, called ocular rosacea. Ocular rosacea can lead to styes and pink eye, often recurring, even after medical treatment. Over time, this can cause permanent damage to the eyes, leading to light sensitivity, eyes feeling gritty or blurry vision. Open sores on the eyes could lead to loss of eyesight, partial or complete.
While there are serious implications of ocular rosacea in children, a proper and prompt diagnosis and treatment can reduce the symptoms and may prevent further progression.
Preparing for the Appointment
Be sure to bring your child's medical history or records with you to their first appointment with their dermatologist. You will also be asked about the family history of rosacea and other skin conditions. They will likely ask about allergies and other medications your child may take.
Possible Treatment
Your child's dermatologist will recommend applying sunscreen daily and avoiding makeup and other products that could trigger the rosacea. Finding other triggers is a big part of treatment. Common triggers include extremely cold or hot temperatures, spicy food or products with fragrances. They will create a treatment plan that could consist of both oral and topical medications.
If your child is experiencing flushing, redness, a rash or persistent pink eye or styes, call Medical Dermatology Specialists today to schedule an appointment. We can properly diagnose the cause and create a personalized treatment plan to provide relief and possibly prevent progression.
Medical Dermatology Specialists, Inc.
5730 Glenridge Dr, Suite T-100
Atlanta, GA 30328
(404) 939-9220
Monday – Thursday 7:30 AM – 5:00 PM
Posted on behalf of Dr. Jamie Weisman, Medical Dermatology Specialists, Inc.