Guidance Issued for Dermal Filler Patients Who Receive the COVID-19 Vaccine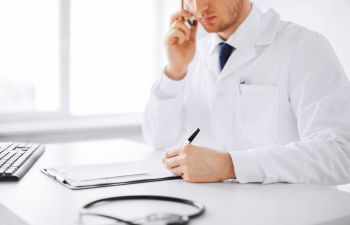 While the practice of Medical Dermatology Specialists does not specialize in cosmetic dermatology procedures, we do want our patients to be aware of information regarding all types of dermatological procedures. The American Society for Dermatologic Surgery (ASDS) has released a guidance regarding COVID-19 vaccine side effects in dermal filler patients titled, "Guidance Regarding SARS-CoV-2 mRNA Vaccine Side Effects in dermal Filler Patients."
The guidance that has been released provides data from the U.S. Food and Drug Administration (FDA) on reactions from the mRNA vaccine. The FDA data reports show that three participants out of 15,184 who received at least one dose of Moderna's mRNA-1273 vaccine have developed facial swelling in areas of dermal filler placement, while no participants in the placebo group experienced any filler-related adverse reactions.
Is the Vaccine Safe?
In all three cases reported by the FDA, patients who experienced swelling noted that the reactions were localized and were either resolved on their own or after simple treatment. It is unknown what the exact mechanism is causing the adverse response, but most doctors believe that it is an inflammatory reaction. Dr. Purvi Parikh, MD, and allergist and immunologist at NYU Langone Health wants people to understand that "a filler is a foreign body, and when [the] immune system is switching on due to a vaccine it would make sense that areas that have foreign bodies that aren't naturally in the body would also have inflammation – this is because the immune system is designed to counteract any foreign substance."
These adverse reactions are not isolated to the COVID-19 vaccine. People who have received the flu vaccine in years past have reported similar reactions. It is also not just a vaccine reaction – viruses like the common cold and influenza are known to trigger swelling because the immune system is being activated.
The COVID-19 vaccine is very new, and doctors are only able to go by available data. Patients already treated with dermal fillers should not be discouraged from receiving vaccines of any kind. If you have questions concerning the COVID-19 vaccine and possible adverse reactions, contact Medical Dermatology Specialists.
Posted on behalf of Dr. Jamie Weisman, Medical Dermatology Specialists, Inc.
Medical Dermatology Specialists, Inc.
5730 Glenridge Dr, Suite T-100
Atlanta, GA 30328
(404) 939-9220
Monday – Thursday 7:30 AM – 5:00 PM