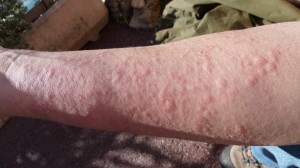 Hives are an outbreak of swollen, red patches, or welts on the skin that appear suddenly. With Spring right around the corner, many allergy sufferers are about to be faced with many symptoms that cause concern. Hives is one of these that is troubling to many people. At Medical Dermatology Specialists in Atlanta, Dr. Jamie Weisman leads our practice as a nationally recognized dermatologist who believes that skin conditions are more than skin deep. Determining the exact culprit of a hives outbreak is essential to finding a lasting solution to this skin condition. Our dermatology practice is committed to treating the primary cause of your hives, not just the symptoms.

Hives typically cause the skin to break out in red patches or welts that are often very itchy; sometimes they burn or sting. They can appear anywhere on the body, and sometimes they seem to "jump" around from place to place. Hives vary in size – from fingernail small to as large as a dinner plate – and they can last for hours or several days. Allergic reactions cause histamine (a chemical) to release from specialized cells along the skin's blood vessels, thus causing the red patches on the skin. While taking an antihistamine during a hives outbreak is often thought of as the best method of treatment, if a person does not know what is causing his or her hives, s/he is only covering up the problem. This is not how Dr. Weisman operates. She does not believe in covering up an issue, but getting to the root of it.
If you have reoccurring hives or someone in your family does, please contact Medical Dermatology Specialists in Atlanta today. We are committed to helping you find a treatment plan that is best for you and your overall well-being.
Posted on behalf of Dr. Jamie Weisman, Medical Dermatology Specialists, Inc.

Circle Us on Google+
Medical Dermatology Specialists, Inc.
875 Johnson Ferry Rd, Suite 180
Atlanta
,
GA
30342
(404) 939-9220

View Larger Map