How to Naturally Remove Sunspots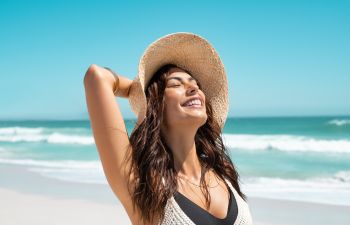 Too much sun exposure can cause sunburns, wrinkles, sunspots and skin cancer. Sunspots, also known as age spots, are a type of hyperpigmentation in which certain skin parts contain more melanin than others. As a result, the affected skin becomes darker and patchy. While sun exposure can cause sunspots, hormonal changes during pregnancy can also cause hyperpigmentation called melasma.
However, various natural treatments can help sunspots gradually disappear, giving your skin tone a more even appearance.
Glycolic Acid
When it comes to fading sunspots, glycolic acid is one of the best performers—and it is natural. One of the most efficient methods for lightening the dark discoloration caused by hyperpigmentation is using glycolic acid, which may be obtained from natural sources.
Hydroxy Acids
Hydroxy acids are excellent at lightening hyperpigmentation. As a result, they frequently appear in topical treatments for acne due to their resurfacing abilities. In addition, alpha hydroxy acids, or AHAs, may affect sunspots and other types of skin discoloration.
Vitamin C
Vitamin C is a natural antioxidant that, when applied topically as L-ascorbic acid, can encourage collagen formation and possibly diminish sunspots. This ingredient is present in many high-quality skin care products, including those that are prescribed. If you have questions about using this vital antioxidant for skincare, speak with your dermatologist.
Vitamin E
Vitamin E is typically applied to the skin as an oil. It is a crucial component of many popular skin oils on the current market. Research has demonstrated that this natural antioxidant is effective in treating photodamaged skin and may protect the skin in the future from more light damage.
Aloe Vera
The skin-healing properties of aloe vera have made it a well-known natural skincare product for some time. Aloe vera can also aid hyperpigmentation by fading spots with aloesin and aloin. Additionally, you will benefit from this natural substance's medicinal properties, which may include inflammation and overall redness reduction.
Getting Rid of Your Sunspots
If you are unhappy with your sunspots, you do not have to put up with them. We provide a range of solutions, such as chemical peels and liquid nitrogen applications, if at-home sunspot treatments are not effective for you. Contact our skin care professionals at Medical Dermatology Specialists today to book a consultation and consider your sun spot treatment options.
Posted on behalf of Dr. Jamie Weisman, Medical Dermatology Specialists, Inc.