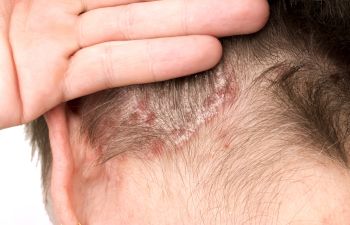 Psoriasis is a chronic disease that is caused by a rapid growth of skin cells. Your immune system sends faulty signals to your skin cells, which causes them to grow too quickly. Your body cannot shed these extra skin cells; instead they begin to pile up on your skin's surface, which causes psoriasis to appear. Psoriasis is not limited to a certain part of your body, but it typically appears on your knees, elbows or scalp.
If you have psoriasis in your scalp it can be challenging in many ways. You may lose your hair in patches, or have bleeding behind your ears or near your hairline.  It can cause you to alter your hairstyle to try to cover the psoriasis. Caring for your hair may be compromised due to the inability to dry and comb it normally.
If you have psoriasis in your scalp you will want to keep your scalp and hair moisturized and conditioned. Make sure you apply any medicated ointments to the spots where needed. You may need assistance from someone for accurate application. Ensure that you are gently styling and caring for your hair. Scratching, picking and being too rough may make your scalp have a flare-up. Avoid using minty shampoos or hair care products or you may experience a severe amount of burning. If you need to blow dry your hair, use a cool temperature. Blow-drying your hair can cause dryness of your scalp.
If you have psoriasis, contact Dr. Weisman at Medical Dermatology Specialists. She offers effective treatment of psoriasis. She also offers the latest and safest ways to treat psoriasis with new and emerging breakthrough treatments such as Taltz and Cosentyx.