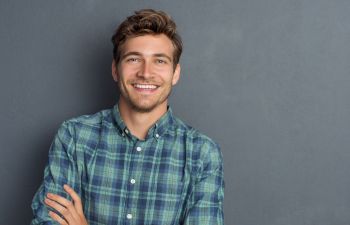 When it comes to taking care of the facial skin, there are both similarities and differences in the skin of men and women. Male facial skin is thicker than female facial skin. Male facial skin tends to be oiler than their female counterparts. Men must also deal with coarse facial hair that grows from puberty until very late in life. While the basic elements of an effective skin care regimen are similar, skin care for men has specific qualities that are designed for the unique makeup of male skin.
It is essential for men to know and understand their skin type:
Dry skin – flaky, itchy, or rough
Oily skin – shiny and greasy
Normal skin – clear, not sensitive
Sensitive skin – easily affected by skincare products, sunscreen, or sun exposure
Combination skin – dry in some areas, oily in others
Understanding your skin type can help you choose products that will clean your skin properly without damaging effects.
Proper skincare for men involves washing your face daily and after exercise; wearing sunscreen whenever you are outdoors; moisturizing your skin daily; routine skin checks; watching your shaving techniques. Of these, the most unique aspect of skincare for men is how you shave. For some men, a multi-blade razor works "too well," shaving too close to the skin. Razor bumps, razor burn, and ingrown hairs are a common problem for men who have a sensitivity to shaving with a multi-blade razor. Switching to a single- or double-blade razor is often a simple solution to reduce the skin's sensitivity to shaving.
For more personalized care created specifically for men, contact Medical Dermatology Specialists today. Our team is dedicated to providing patients with an individualized approach to skincare. We want to help you look your best.
Medical Dermatology Specialists, Inc.
5730 Glenridge Dr, Suite T-100
Atlanta, GA 30328
(404) 939-9220
Monday – Thursday 7:30 AM – 5:00 PM
Posted on behalf of Dr. Jamie Weisman, Medical Dermatology Specialists, Inc.