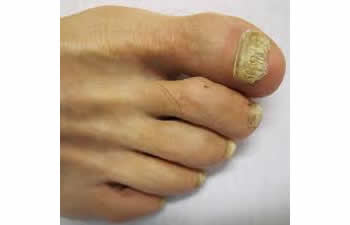 In the summer drinks are colder, skin is darker, shorts are shorter, and toes are exposed. With the hot temperatures, it is easy to see why people want to wear flip-flops and sandals for days on end. However, not everyone's toes are worthy of being exposed to the world. If you look down at your feet, do you like what you see? Are your toenails nice and pink with white tips? Is the skin around your toes healthy and soft? Are your toenails growing at an even rate, without cracking or splitting? If you answered no to these questions, it may be time for your feet to receive a little TLC and medical attention. Medical Dermatology Specialists can help you fight off nail fungus that attacks the toenails and skin around the toes so that you will feel comfortable in those stylish summer shoes.

Toenail fungus is a common condition that affects millions of people in the United States. Any time you notice a change in your nails it is advised that you seek the attention of a dermatologist as soon as possible. Toenail fungus is contagious, and people who share the same bathroom, shower, tub, and/or bed can easily spread the condition. While there are many over the counter options for treating toenail fungus, it can be very difficult to treat and can take a long time to obtain a complete cure.
Dr. Jamie Weisman leads our practice as a thriving doctor who is committed to researching the most cutting-edge treatment options available. Our practice takes all skin conditions seriously, and we are dedicated to finding the remedies that our patients need on an individualized basis. You can trust Medical Dermatology Specialists for comprehensive care and treatment for your skin, nails, and hair. Please contact our dermatology practice today to schedule an appointment and begin eliminating your nail fungus as soon as possible.
Posted on behalf of Dr. Jamie Weisman, Medical Dermatology Specialists, Inc.