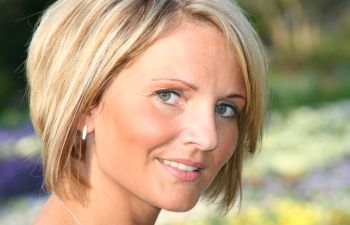 Now that summer is drawing to a close, you may begin to notice that your skin has changed over the last few months. While wearing a "summer glow" is a beautiful accessory during the summer months, once the weather cools down, many people are left with unwanted evidence of how the sun negatively affected their skin. Sun spots are dull, reddish-brown spots on the skin that do not fade with your tan. Typically found on the face, neck, shoulders, décolleté, or back, sun spots can cause people to feel self-conscious and unattractive.
Sun spots are places on the skin that have become discolored due to sun exposure. Hormones often affect their depth of color, and fair-skinned people tend to have more noticeable sun spots than those with olive skin or dark skin. Chronic sun exposure is dangerous and should be avoided. Wearing a sunscreen with 30 SPF or higher each day is vital to protect your skin from the sun's damaging rays. However, even with the appropriate use of sunscreen, UV light penetrates the skin over time. When the skin is exposed to UV light for extended periods (or even short periods of time without sunscreen application), there is an acceleration in the production of melanin in the skin. Sun spots show up on the skin when melanin is concentrated in certain places.
It is imperative to have your skin looked at by a medical dermatologist. Your skin is your body's largest organ, and its health will have an impact on your overall wellbeing. Certain sun spots are pre-cancerous lesions that can quickly develop into skin cancer if left untreated. At Medical Dermatology Specialists, we have the expertise to eliminate sun spots and treat this pre-malignant skin condition.
It is never too early or too late to take care of your skin. You can trust Dr. Weisman to provide excellent care for all of your skin conditions. With knowledge and a comprehensive approach to your skin concerns, Dr. Weisman can partner with you to help you take care of your health. 
Medical Dermatology Specialists, Inc.
5730 Glenridge Dr, Suite T-100
Atlanta, GA 30328
(404) 939-9220
Monday – Thursday 7:30 AM – 5:00 PM



Posted on behalf of Dr. Jamie Weisman, Medical Dermatology Specialists, Inc.