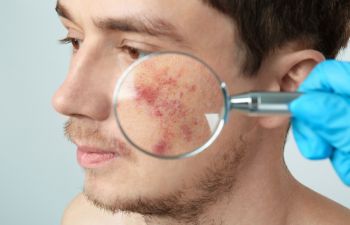 Being the parent of a teen comes with its own set of challenges. Many parents find that the teenage years are not the "things of nightmares" that they feared, but they are enjoyable years watching their children come into themselves. Maturity comes with time, and as your children age, they will also experience many changes that they must deal with. One of those is the hormonal effects on the skin.
Most teens will experience some form of acne. This is an unfortunate occurrence that can cause embarrassment and feelings of isolation for your teen as he navigates these turbulent years. Fortunately, acne can be effectively treated and managed with the help of a dermatologist.
Over-the-counter products are ideal for people who have occasional, mild breakouts. A gentle cleanser such as Cetaphil is specifically formulated to provide effective skincare for a variety of skin types. Used twice a day, a gentle cleanser will remove dirt and excess oil without drying the skin or causing irritation. Many teenage girls will also find that during their menstrual cycles, their skin will go haywire. Keeping an "on the spot" blemish cream can help during these days when hormones go wonky.
However, many teens will not find the solution they need to treat their acne from over-the-counter products. Seeking the help of a dermatologist will provide your teen the specific treatment he needs to help in acne management. At Medical Dermatology Specialists, we have expansive knowledge in treating acne, access to advanced and modern therapies, prescriptions, and treatment modalities that you cannot find at your local drug store.
If your teen is suffering from severe acne, finding the most appropriate and effective treatment is essential in preventing scarring and permanent damage to the skin. Please contact Medical Dermatology Specialists to schedule an appointment. Dr. Jamie Weisman will meet with you to discuss treatment options that are tailor-made to treat your skin concerns. Dr. Weisman understands the significant emotional distress that acne can cause and will ensure you get a treatment plan that is right for you.
Contact our practice today.
Medical Dermatology Specialists, Inc.
5730 Glenridge Dr, Suite T-100
Atlanta, GA 30328
(404) 939-9220
Monday – Thursday 7:30 AM – 5:00 PM
Posted on behalf of Dr. Jamie Weisman, Medical Dermatology Specialists, Inc.