The Role of Sunlight with Psoriasis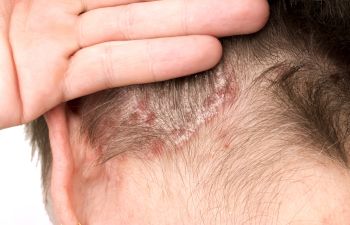 Psoriasis is a long-term, chronic skin disease that causes red, scaly, itchy patches on the skin. Most patches of psoriasis occur on the elbows, knees, trunk, and scalp. Most people who suffer from this skin disease typically find that it goes through cycles, having flareups for a few weeks or months, and then the symptoms will subside or go into remission. Although mild psoriasis may be treated easily, severe psoriasis can be challenging to treat and become frustrating and embarrassing for patients.
A factor that can play a significant role in a person's battle with psoriasis is the weather. Many people who have psoriasis find that the sun helps improve their skin's appearance. In fact, some people in warm climates experience almost completely clear skin during the summer months. While it is very tempting to read that and think that you need to go out and sunbathe for a couple of hours each day, there are precautions.
If the skin is exposed too soon and for too long, sunburn can easily result. Sunburn not only damages the skin, but such skin injury can start a new plaque of psoriasis at the site of the damage. It is essential that you increase your sun exposure gradually so that your skin adapts to the sun without burning. While the benefits of sunlight in psoriasis can be positive, it must be remembered that you still need to protect your skin. Everyone should apply sunscreen to their skin daily during the summer months to protect from damaging UV rays. For those with psoriasis, you should speak to your dermatologist for a dermatological recommended brand of sunscreen to protect your highly sensitive skin. Another way to protect your skin is by wearing clothing. Many types of "breathable" materials can be worn during the hottest days that will protect your skin from damaging UV rays. Alternating between full sun exposure and wearing breathable fabrics can allow your skin to adjust gradually.
Medical Dermatology Specialists has the experience and expertise you need to get long-term solutions for your chronic skin disease. Contact our Atlanta Psoriasis Treatment Experts today for the most advanced treatments available for psoriasis.
Medical Dermatology Specialists, Inc.
5730 Glenridge Dr, Suite T-100
Atlanta, GA 30328
(404) 939-9220
Monday – Thursday 7:30 AM – 5:00 PM
Posted on behalf of Dr. Jamie Weisman, Medical Dermatology Specialists, Inc.