What You Need to Know About Mascne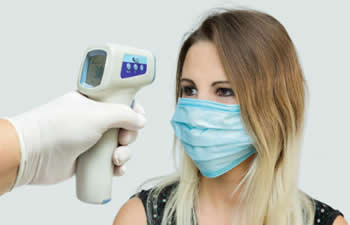 2020 has brought in new ideas, new troubles, and new terms. One new term that is affecting millions of Americans is "mascne." Mascne, or mask-induced acne, is caused by wearing face masks and face covering.
Mascne is a type of acne called acne mechanica that is typical in those wearing helmets, headbands, chin straps, and now face masks. This type of acne is triggered by excess heat, pressure, and friction of the skin that irritates the skin. When the skin is irritated, it is more vulnerable to bacteria clogging the pores. The combination of sweat and oil underneath a mask leads to clogged pores that become inflamed, and it is a recipe for acne in all forms: whiteheads, blackheads, cysts, pustules, and papules.
Here in Georgia, masks are not mandated, but many people are still choosing to wear them because they think that they provide some sense of protection. Certain stores require customers to wear them, so mask-wearing is a sign of the times in 2020. Since masks are now a part of many people's daily lives, and since there is a direct correlation between mask-wearing and acne, you need ways to prevent mascne from ruining your face. Here are tips to keep your skin clear and prevent aggravators as much as possible:
Make sure your skin is clean before putting a mask on
Do not wear makeup under your mask
Try to remove your mask as often as possible to allow the skin a chance to breathe and take a break from poor air circulation
Shower or cleanse the skin as soon as possible when you get home
If you are wearing a cloth mask, wash it after every use
If you or your children are suffering from mascne, Medical Dermatology Specialists in Atlanta can help you regain your confidence in your skin. We can provide the most effective solutions to the clear skin you deserve. Contact our practice today.
Medical Dermatology Specialists, Inc.
5730 Glenridge Dr, Suite T-100
Atlanta, GA 30328
(404) 939-9220
Monday – Thursday 7:30 AM – 5:00 PM
Posted on behalf of Dr. Jamie Weisman, Medical Dermatology Specialists, Inc.