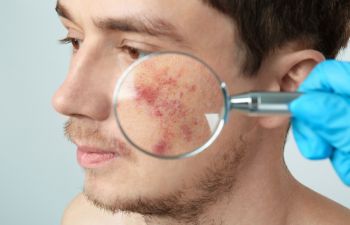 As surprising as it may be, many people find that they experience more issues with acne during the winter than at any other time of the year. While many people associate acne with summer because of the heat, humidity, and sweat – the dryness of winter can actually cause more skin issues. During the winter months, dry air causes the skin to become dehydrated. Whether you are outside in the cold wind or indoors with central heat, the air around us is dry, and it will dry up your skin's protective barriers. If you find that your skin looks bad during winter, this post is for you.
What to do to prevent winter acne breakouts:
Change your cleansing habits. While the skin is being dried out from the atmosphere all around you, it is a good time to use a facial cleanser that is formulated for sensitive skin. The skin is much more vulnerable to infection when it lacks necessary moisture. Hence, one easy way to help prevent acne is to use a face wash that will not bother your skin.
Turn down the heat. It is so tempting to take very hot showers and baths during the winter. The air around you is cold, so it's nice to warm up in the bath. However, hot water sucks moisture from your skin leading to acne.
Moisturize, moisturize, moisturize! It is super important to use a non-comedogenic moisturizer after cleansing your skin. After every bath, shower, or any time you wash your face, follow up with a dermatologist-recommended moisturizer. This will help lock moisture in the skin and prevent acne that is caused by over-dryness.
Watch your diet. In winter, people tend to crave hot, spicy, and oily foods. Whether it is the "comfort" from the foods or how they literally heat the body, these foods are more often consumed during cold weather. However, these foods can trigger acne breakouts. Try to focus on fruits and vegetables, high contents of water, and lean meats.
If you are suffering from winter acne, contact Medical Dermatology Specialists today for an appointment. We will help you look and feel your best.
Posted on behalf of Dr. Jamie Weisman, Medical Dermatology Specialists, Inc.
Medical Dermatology Specialists, Inc.
5730 Glenridge Dr, Suite T-100
Atlanta, GA 30328
(404) 939-9220
Monday – Thursday 7:30 AM – 5:00 PM